We Offer Attorney Help
The Federal Trade Commission (FTC), the nation's consumer protection agency, enforces the Fair Debt Collection Practices Act (FDCPA), which prohibits debt collectors (collection agencies, credit card companies, etc) from using abusive, unfair, or deceptive practices to collect from you.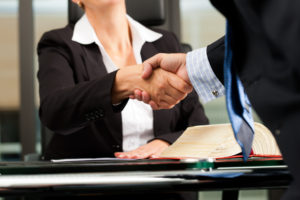 How Can We Help?
Debt collectors are trained in the laws of the FDCPA. They know what they can and cannot do. They equally know that the consumers that they call are not nearly as knowledgeable about their rights under the law. If your creditors violate these laws,
we can sue them on your behalf.
Our lawyers and paralegals band together to analyze your case and situation from all angles to bring about the best result in the quickest manner.
Benefits:
We can get money damages for you if we have to sue a creditor on your behalf. You may be entitled to actual damages including emotional distress, embarrassment and humiliation
(up to $1000 per violation)
. This service is free of charge to you and it is included in your
credit repair process
.
Common Violations of the Law:
1) Repeatedly calling consumer on the telephone (constant harassment).
2) Contacting consumer at his/her job after being warned.
3) Contacting consumer's employer.
4) Threatening criminal proceedings.
5) Threatening a lawsuit but has not done so. 6) Threatening loss of a job. 7) Lying to consumer.
8) Being abusive, offensive or using profane language.
9) Threatening violence or physical harm.
10) Threatening to ruin consumer's reputation.
11) Contacting third parties to the debt (except spouse).
12) Calling you before 8:00 am or after 9:00 pm.
13) Leaving messages on answering machines.
14) Not identifying themselves as debt collectors (telephone calls, letters, emails text messages, etc).
15) Trying to collect on a debt that has been discharged through bankruptcy.
16) Continue collection attempts after receiving a cease communication notice.
For more information about your rights as a consumer, please see
FTC Consumer Information
.
Help Us Help You!
Creditors will attempt to contact you when you owe a debt. It is important to
keep track (recordings, screenshots, letters, etc) of their attempts to collect on a debt
in case a violation happens.