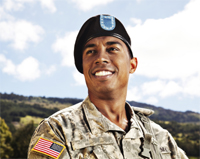 While we pride ourselves in offering our customers the lowest possible prices on our services, we feel we must do even more for our friends in the military and special forces.
We fully understand and fully support the hard work, dedication, and the sacrifices made by members of the U.S. military and Special Forces. We understand the financial sacrifices made while serving our country.
We offer a $35 Discount for Active Military Members and Special Forces.
If you are an active member of any qualifying branch of the US Military or Special Forces, you will receive an additional $35 off ANY payment plan we offer. Members of the following branches qualify for the military discount:
U.S. Army
U.S. Navy
U.S. Air Force
U.S. Marines
U.S. Coast Guard
How To Claim Your Discount
Please provide us with your valid military identification in order to verify you are an Active member. The discount will be applied to any of our
payment option plans
.